Lovie Digs Doug Martin
April 24th, 2014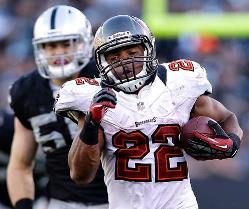 When Joe had a chance to talk one-on-one with Bucs new coach Lovie Smith at the NFL Combine, Lovie emphasized how Doug Martin will be his bellcow back but that doesn't mean Bobby Rainey and Mike James won't get any touches.
But Lovie was somewhat hesitant to totally drool over Martin because, at the time, Martin was not yet cleared medically to begin working out and practicing.
Martin, indeed, did get that medical clearance and now that Lovie has had a chance to see Martin with his own eyes on a football field, Lovie is as excited for him as Martin is excited to be back on the field.
"Is he coming off an injury? Can't really tell," Lovie said. "He's done everything, taken every rep we've asked him to. No seriously, Doug has been around here rehabbing a lot but to finally see him on the football field – he's compact, he runs downhill an awful lot, but the wiggle that he has of making people miss in the open field. Happy guy, I like being around him, takes coaching.

"If you've seen (running backs coach Tim) Spencer, he's had a smile on his face quite a bit. Not just Doug, Bobby Rainey is a good football player, same thing can make you miss, and they're compact players. If we say that we're going to be a team that runs the ball, those guys need to be that way and be guys that we can count on."
It's good to know Martin is 100 percent and impressing his coaches. Oh, and he is still biting the football in practice this week, an ode to the Greg Schiano, toes-on-the-line tactic and teaching.
A good run game opens up the passing game. Always has, always will. Former Bucs outcast quarterback Rip Van Freeman's best games were when he had a strong running game behind him whether it was LeGarrette Blount or Martin or Earnest Graham.
Joe can only imagine what this Jeff Tedford offense can be if Martin and James and Rainey are running wild.