Pro Days Won't Influence Licht
April 29th, 2014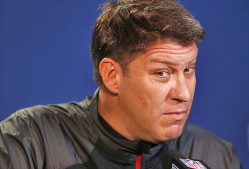 NFL fans are so hungry for any morsel of football information that anything resembling even a rumor in the offseason is treated like the kickoff for the opening weekend.
It has gotten to the point that pro days are telecast live before breathless fans, thinking a pro day can make or break a player.
Hogwash, said Bucs general manager Jason Licht today at One Buc Palace. While he did admit pro days are a part of a large puzzle, pro days, unless under rare circumstances, will not sway Licht in his decision to select a player.
"We try not to let the pro day dictate where the player gets massaged up the board or not," Licht said. "Opinions have changed only if Lovie and I haven't had a chance to see a lot of the player, especially underclassmen. [Evaluating] underclassmen is where your biggest mistakes are made. If scouts really haven't had a full evaluation [of an underclassmen], we are all kind of starting from square-one. But pro days and the combine, we may tweak here or there but you have to be careful with major moves."
As Licht later noted, the core evaluation of a player first and foremost is game tape. The foundation of the player's resume is how he plays on Saturdays in the fall.
In short, no Mike Mamula-type pick for Licht.