How Good Was Doug Martin?
April 2nd, 2014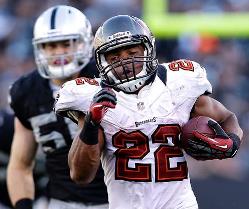 When Doug Martin Twittered he was cleared officially Monday to begin practicing, one week before the Bucs hold their first OTA of the Lovie Smith era, Joe quickly remembered Martin's 2013 season, a snapshot of the Bucs horror movie that the year turned out to be
First, there was the leaky, sleepy Rip Van Freeman saga, soon after, a MRSA outbreak. Then All-Pro guard Carl Nicks got the MRSA and was out for the year. It just got worse, and quickly, like an out of control snowball rolling downhill.
In retrospect, it sure seems like Martin had a rough year. Of course, with the offensive line playing subpar ball with a massive void left by Nicks, it sure didn't help. But eye-RAH! Kaufman of the Tampa Tribune chooses to focus on Martin's rookie season when Martin made the Pro Bowl.
IKaufmanTBO: Bucs RB Doug Martin says he's been cleared to return after shoulder surgery. Martin had very few holes to run through before his injury … Easy to forget how special a 2012 rookie season Doug Martin turned in, when he ranked third in the NFL in total yards from scrimmage
Martin's numbers were way down last year. Though playing in but six games in 2013, Martin's yards-per-catch was down nearly 50 percent (three of those games, Rip Van Freeman was the quarterback and the other half was a raw rookie, so the downtrend is understandable).
Rushing? Martin was down a full yard-per-carry.
It is always interesting to see how superstar rookies rebound for their sophomore season after NFL teams have had a full offseason scheming to stop them.
Joe will be intrigued to see how Martin runs with a revamped offensive line. Was last year just a bad fluke, or have defensive coordinators figured him out?