GMC Talks Up Will Gholston
April 15th, 2014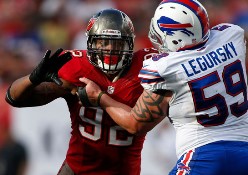 Joe has gone on record stating second-year defensive lineman Will Gholston could be a break out player for the Bucs this season. Judging by his rookie year, all signs point to Gholston being on every NFL offensive lineman's radar.
The Michigan State product was on the inactive list for games early last season. Weeks later he found himself starting and playing in a regular rotation on the defensive front, even recording sacks.
Now, Gholston will be coached by guys who have a proven ability to get strong results from the defensive line. This afternoon, Bucs defensive tackle Gerald McCoy spoke about all sorts of things and one of his subjects was Gholston.
GMC believes Gholston is far from tapping his potential and even went as far as to invoke the name "Julius Peppers" when discussing Gholston.
 "Will is one of those rare guys with his size and ability," GMC said. "He has potential. He can do things he doesn't even realize he can do. I had to tell him last year, 'Hey man, you know if you try this nobody can stop it?' Then he would do it and say, "Ah, you [were] right.' And I was like, 'Yeah, I know I was right. I've been trying to tell you this for five weeks.'

"I always say he looks like Julius Peppers in his pads and how he moves when he wants to. I say, 'Man, you can be that guy. You can be like Pepp. He plays inside and outside but when he wants to get to the quarterback, he can.' He's a physical specimen, that's Will."
This is music to Joe's ears and it should be to all Bucs fans. It's not just the potential of Gholston but just in GMC's words you can see not only is GMC a leader but he can even sense what a fellow teammate can and cannot do.
Anyone find it interesting that GMC was telling Gholston to try a move GMC was certain would work, but apparently Gholston wasn't getting the same input from any of the Bucs coaches?