Demar Dotson: Last Man Standing
April 24th, 2014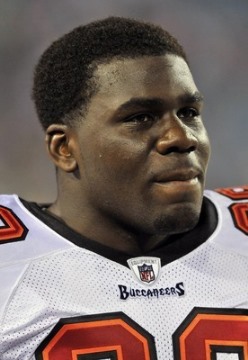 When Demar Dotson stands up, he is one large man. Part of that is the Bucs offensive right tackle stands a whopping 6-9, 315. He's a friggin' billboard.
Dotson, one of the nicest guys Joe has ever dealt with, is also the last man standing from the 2013 offensive line. Gone is Donald Penn. Gone is Ted Larsen. Gone is Jeremy Zuttah. Gone is Davin Joseph. Carl Nicks remains in toe purgatory, relegated to watching practice from the sidelines.
Today at One Buc Palace, Dotson talked about the massive changes to the offensive line.
"We got rid of a lot of key players on this offensive line and a lot of guys that have been respected around here and a lot of guys I respected. That's a big change. But those guys left us in good shape. Left me in good shape because they taught me a lot over the years. And I respect them from Davin to Zuttah to Penn. Those guys mean a lot to me.

"The reason I get a chance to be the player I am today is because of those guys. They taught me a lot. Those guys were the rock of this offensive line."
Dotson also talked about how he is the lone survivor from the purge.
"At first, it hits you that it's a business," Dotson said. "Then I looked at is as a blessing. I get to stay here now going on six years. They see enough from me to keep me around. I look at it as a blessing, knowing it is a business.
While Dotson said he believes he is a leader by his work ethic, it is clear who the vocal leader of the offensive line is now.
Center Evan "Dietrich-Smith, he does enough yelling for everybody," Dotson said. "I try to get him calmed down a little bit. Nobody needs me to yell, he does it enough."
To hear the rest of Dotson's interview, please click the orange button below, courtesy of Joe's co-conspirators at WDAE-AM 620.