Bucs Better At CB Than "No-Name"
April 2nd, 2014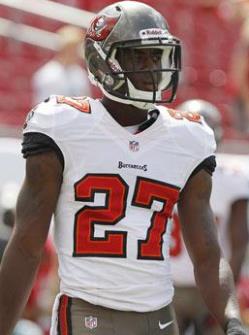 Yesterday the Bucs were heavy present on Pro Football Talk, which Joe is sure all of you enjoy daily on NBC Sports Network, co-hosted by Erik Kuselias and the creator, curator and overall guru of ProFootballTalk.com, the great Mike Florio.
Joe will bring you excerpts of the roundtable discussion, which also included former NFL offensive lineman Ross Tucker, and former Bucs quarterback Shaun King, one of but three QBs in franchise history to lead the Bucs to an NFC title game.
When the subject of the secondary came around, Kuselias asked King if the Bucs' offseason moves were a win, a loss or a wash, King explained how the moves for the secondary lateral.
"A wash. And here is why: Darrelle Revis is a better cornerback than Alterraun Verner," King said. "But with the $10 million they saved in the difference in contracts, they improved in so many other areas. And Verner is a perfect fit for this zone defense. He has excelled in zone coverage. He has great instincts, great ball skills. They will be fine. Lovie made it to a championship in Chicago with Peanut Tillman and a no-name at corner so he has proven he can do it."
LOL. Joe is going to guess that King was referring to Nathan Vasher, who played probably the best of his career in the Bears' postseason run to the Super Bowl in January 2007. The other corner on that team, Denny's-fighting, laptop-hating Ricky Manning, had a damned good year in 2006, as well.
Joe is going to go out on a limb and suggest that Johnthan Banks will be every bit the player Vasher and/or Manning was.
While Joe understands where King is coming from, it's difficult for Joe to believe the secondary got better by losing a Hall of Fame corner in his prime. Not even a wash.