Vincent Jackson: Josh McCown Recruiter
March 14th, 2014
Podcast: Play in new window | Download | Embed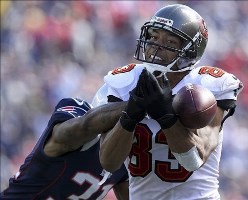 Of note in today's BSPN Radio interview of starting quarterback Josh McCown is him referencing how Vincent Jackson was part of his interview process and helped him decide the Bucs were a fit for him.
Kudos to Jackson for helping the Bucs upgrade from Mike Glennon.
Joe's previously written about how McCown was also an interviewer himself in the process, drilling Jeff Tedford about the new Bucs offense to determine whether he'd be a fit.
You can access the Mike & Mike audio below. McCown is almost cornered into saying the Bucs will run some spread-offense looks. McCown did say the offense will "match that intensity" of Lovie Smith's defense and McCown wants his offense to "look like we've been around for a while," not a new system with a new QB.