The Draw Of Lovie Smith
March 17th, 2014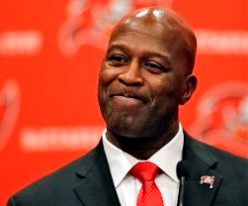 Last Wednesday when Bucs general manager Jason Licht stepped away from the podium where four new Bucs were introduced, Licht noted head coach Lovie Smith was perhaps his biggest magnet for free agents and his best salesman. This seemed to reinforce the notion that players love Lovie, when almost to a man, the new Bucs said Lovie was a factor in their signing.
The next day when Bucs starting quarterback Josh McCown and offensive lineman Anthony Collins had their turns behind the mics, McCown explained why players like Lovie.
"I think because he cares," McCown, who played for Lovie in Chicago, said. "You spend five minutes with him and you feel like he cares about you as an individual and as a person. That matters to players. As long as I've played, if I've learned one thing it's that relationships matter and the relationships that you can build in the building matter. As much as we talk about this being a business, the guys that I've played with through the course of my career – it's resounding how much, when an issue comes up, how much you can look at why an issue happened and go, man, it's because the relationship is fractured between the player and the coach and because the player doesn't feel cared for. I believe that more than anything, and appreciate that so much from Lovie is that I believe he cares and the guys believe that as well."
It's great that players want to play for Lovie and that he was a draw for many of them. Already, Gerald McCoy has raved about Lovie on NFL Network. It's always good when players respect a coach as opposed to fearing him.
At the end of the day, however nice relationships are, it doesn't matter one red cent. It's all about wins, whether a player loves a coach or wants to throw a Molotov cocktail in his car. It is all about performing and winning on Sundays (and the occasional Monday or Thursday or Saturday).