DeSean Jackson Opportunity Hard To Ignore
March 23rd, 2014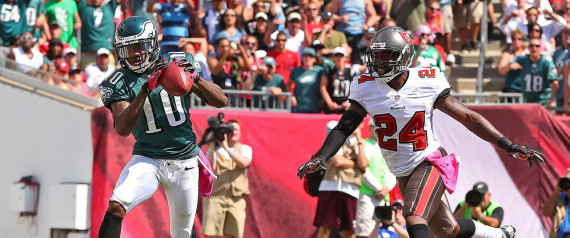 A healthy, young, explosive NFL superstar in his prime could be cut very soon — and his name isn't Darrelle Revis.
Joe's been following and studying the saga of Eagles wide receiver DeSean Jackson. Word out of the Philadelphia Inquirer this morning is practically a farewell to Jackson, who played his college ball for Bucs offensive coordinator Jeff Tedford.
Jackson's getting the boot from Philly for one reason: money. The Eagles don't want to pay him Vincent Jackson money $10.5 million this year, and Jackson, 27, won't restructure. Last year, Jackson had his best season, 82 catches for 1,332 yards and nine touchdowns.
Selected nine spots before the bad Dexter Jackson in the second round of the 2008 NFL Draft, Jackson is expected to be cut for the same reason nearly every other big-money veteran gets the axe: no other team wants to take on his salary, which they'd have to do if they traded for him. His contract also calls for $9.75 million plus incentives in 2015 and 2016. 
So would the Bucs try and pounce on Jackson if he's cut? That's a hell of a question. Why would they not be at least interested?
Joe's researched Jackson's relationship with Tedford, and it seems like it was solid. In 2011, the two appeared together speaking to kids in a rough northern California neighborhood, and Tedford is known for his close relationship with "Cal" alumni. Joe was told at Super Bowl media day that "Teddy" keeps in touch regularly with Marshawn Lynch and dozens of others.
Jackson is known for being sour on "Cal" for rumors that emerged claiming he wasn't a team player there, which possibly affected his draft stock. But then Eagles head coach Andy Reid told reporters he talked extensively with Tedford before the '08 draft and Tedford gave him the straight talk on Jackson. Reid went on to say he believed Jackson would have been gone in the first round. So Joe assumes Jackson has no ill will toward Tedford specifically.
If Tedford is the offensive guru he's propped up to be, then surely he can find a way to add a speedy beast like Jackson into the mix with Vincent Jackson and Mike Williams. Speed like Jackson's could make the entire offense more effective and dangerous. How the trio worked or didn't worked could be fine tuned in 2015. Williams may have worn out his welcome by then anyway, and Vincent Jackson could be clearly on the backside of his career.
As for affording DeSean Jackson, the Bucs would have to make salary cap room, but not necessarily significant moves.
Joe's not lobbying for this to happen, but it would be puzzling to see a new regime seeking a "up tempo" offense quickly dismiss the thought adding Jackson.
As for Jackson's reputation, Star-Ledger Eagles beat writer Eliot Shorr-Parks doesn't see why the Eagles are letting go and is wagging a finger at Chip Kelly. 
Where are the off-field issues?

Since arriving in Philadelphia, Jackson has staged a brief holdout before the 2011 season and served a one-game suspension later that season. In the meantime, Jackson has been the most productive wideout on the team. He is active in the community, and it would be difficult to find a teammate who doesn't respect Jackson — and even harder to find one who doesn't want him on the team.

If there have been unrevealed instances when Jackson has hurt the team, the Eagles might be right to move him. It is difficult to imagine, after the season he had last year, that the issues surrounding Jackson are so bad that the team can't function with him. It is also hard to believe that after dealing with Cooper last season, the franchise can't handle whatever might be going on with a wideout who has been considerably more productive.
Joe doesn't know whether the Bucs are the slightest bit interested. But before anyone dismisses Jackson as not being Lovie Smith material, keep in mind Lovie had no problem bringing wacky, troubled receiver Brandon Marshall to Chicago.