A Plea For Michael Vick
March 4th, 2014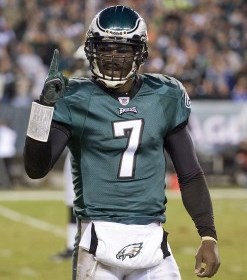 The Bucs aren't that far away. In fact, they're loaded with talent. That's the take today from former longtime Falcons offensive lineman and current NFL Network analyst Jamie Dukes.
Dukes hosts a daily sports radio show in Atlanta and is a close follower of the NFC South. He's scrutinized the Bucs and thinks Michael Vick is the answer to replace the Tampa Bay's "quality backup," Mike Glennon.
Speaking on WDAE-AM 620, Dukes acknowledged Vick isn't durable, but says he can do so much more than Glennon and is an X-factor kind of player to challenge defenses and get the most out of the Bucs' weapons.
Dukes is extremely high on the Bucs' offensive line and its ability to pass protect. And he's certain Lovie Smith can make the Bucs defense — as it is right now — a top-10 defense. (You can listen to Dukes' full interview below.)
The interesting point Dukes brings up is the win-now status of the Bucs. Yes, the Bucs have holes and question marks, but just how far away are they? If you listen to Lovie Smith, he'll tell you the Bucs' talent base is what it is — that of a 4-12 team. But in the same breath Lovie will talk about the superstar already pieces in place and his extreme confidence in a quick turnaround to becoming "relevant" in January.
There is a load of talent on the Bucs. Joe surely doesn't think rockstar general manager Mark Dominik left a bare cupboard, and there's also a load of cash to go shopping next Tuesday.
Joe's not clamoring for Vick. Joe would rather see Vick go to the Raiders or another quarterback-needy team drafting higher than the Bucs, in order to increase the odds of Johnny Football or Teddy Bridgewater landing in Tampa. But Joe could see the Bucs inking Vick immediately after the free agency bell rings. Vick represents a significant upgrade — at the most important position on the field.