1 Million And Counting
March 14th, 2014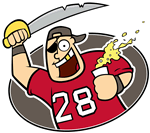 It's official. For just this week alone, Joe will bust the 1 million mark for pages viewed on this here website. The final tally will be about 1.3 million. Yes, that's a new record for a week.
Joe appreciates all his readers, especially those that don't complain and attack Joe in the comments section, and on Twitter, and in Joe's email box, and the guy Joe ran into last week who told him he was a radio blowhard. 
Joe is taking pause to thank all who have helped Joe be one of the top three most visited NFL-team-specific sites in the country, not including those owned by the NFL. Major sports media executives have asked Joe what's the secret here and, frankly, Joe has no answer. Joe continues to write about what interests Joe and cover the Bucs with the same passion he attacks freshly poured ice cold draft beers.
When Joe drinks those beers tonight, Joe will be thinking of all of you. Joe is re-energized to continue delivering all things Bucs 24/7.