Sammy Watkins And The Bucs
February 12th, 2014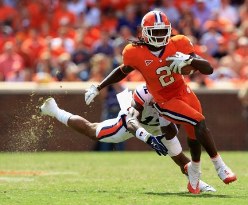 Joe knows fans love mock drafts like Joe loves beers (or Joe's newfound Sunday favorite, the bacon Bloody Mary). In a perfect world, we could consume them on end. But be wary, good things come with responsibility.
Enter prickly Pete Prisco of CBSSports.com. He has a mock draft, but wisely points out how irresponsible mock drafts are before free agency. Joe can't disagree with that point whatsoever.
But the pick prickly Pete pegs the Bucs taking with the seventh pick intrigues Joe, and that would be Clemson wide receiver Sammy Watkins.
7. TAMPA BAY BUCCANEERS: Sammy Watkins, WR, Clemson: Vincent Jackson isn't a kid, and they lack the big-time speed outside. Could go for a pass rusher.
Joe could easily see this happening. As many in the Mike Glennon Mob tell Joe on a near daily basis, apparently forgetting that the NFL is not baseball and teams can actually trade up (or down) in the draft, Teddy Bridgewater and Johnny Football will be gone and possibly Jadeveon Clowney and Jake Matthews, too. If true, that means — provided the Bucs want Watkins — there would be a one-in-three chance Watkins would be on the board when the Bucs pick.
The Bucs need help at receiver. When Mike Williams went down with a season-ending injury, the Bucs receiving corps massively struggled because defenses swarmed Vincent Jackson like drunks would Rachel Watson if she showed up at a fraternity party.
Imagine how defenses would have to play honest in a three-receiver set with Jackson, Williams and Watkins? That would help out Glennon.