Mike Williams' Legal Hassle Over A Door
February 11th, 2014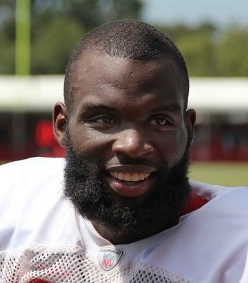 The details of the legal hassle Bucs wide receiver Mike Williams finds himself in has everything to do with a front door. In short, a court document alleges Williams did up to $200 damage to a front door, reports Woody Cummings of the Tampa Tribune.
The incident in question occurred on Dec. 13, when Williams "without being authorized, licensed or invited, willfully enter(ed) or remain(ed) in the property of Gabrielle Edwards,'' according to the charging document.

Williams "did willfully or maliciously injure or damage real or personal property belonging to Edwards, resulting in damage of $200 or less,'' the document states.
The relationship between the owner of said front door and Williams is unclear.
Now Joe is not about to condone a player bashing — for those who play loose with the King's English, this is "bashing" — in a woman's door. No way.
But are we really going to get wound up about $200? That could be the price to repaint and surface a scratch, or to clean up a chocolate shake spill.
It is not cool what Williams did at all. But up to $200? Going through all of this nonsense for $200?