Kelvin Benjamin And The Bucs
February 22nd, 2014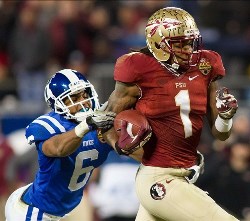 Joe talked to one of the most intelligent football thinkers around while at the NFL Scouting Combine at Lucas Oil Stadium in Indianapolis Friday, and that was NFL Films guru Greg Cosell.
Joe will deliver the interview Monday, but one thing Cosell shared was that he didn't think Bucs stud receiver Vincent Jackson had a great 2013 season.
Joe attributes part of that to Jackson getting swarmed like bees to honey because he was the only threat when Mike Williams got injured.
(By the way, Joe wonders what the pricey bill might be for repairs after a massive grease fire to a high-end kitchen?)
With Jackson on the wrong side of 30 and Williams all of a sudden being on the endangered species list, and no other reliable receiver on the roster, it would not be a shock to see the Bucs draft a wide receiver.
Bucs general manager Jason Licht remarked to Joe this week that projected starting receivers could be had in the third round this year because the draft is so deep at the position. Alas, the Bucs do not have a third round pick.
So could a stud like Kelvin Benjamin drop to the Bucs in the second round? Time will tell, of course, but Benjamin, who caught the national championship-winning touchdown for Florida State last month, showed the right attitude when he met with Joe and the fourth estate at the combine. He's of the mind he has much to improve.
"I just want to be physical but I try to be smart, too," Benjamin said. "I watch a lot of receivers. I don't just watch the big guys, I try to watch the little guys, too. You watch the smaller guys to imitate their quickness off the line. Some guys, that first step, you can learn a lot from watching them do that."
What Joe loved about Benjamin's press conference was when he was asked what is his favorite coverage to break open against.. The 6-5, 240-pound, freakish speedy receiver said, "Off the jam, I love press coverages."
So, what type of guy would Benjamin be if the Bucs called his name on the second day of the draft?
"I'm a good team guy, in the locker room, trying to meet other guys that are coming," Benjamin said. "They'll get a guy that's never going to give up. And if I need to work on something, my route running, my catching, that's what I'm going to do."
Imagine having Benjamin book-end Jackson, only Benjamin is quicker than Williams? Don't think that wouldn't help out Mike Glennon or Johnny Football?
Man, Joe could only drool at the thought.