"Yeah, This Guy Played; He Understands."
January 16th, 2014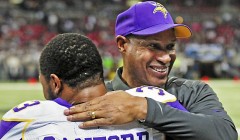 Joe's confident no Buccaneers players will realize mild-mannered, even-keeled Leslie Frazier was a dancer and rapper in the world famous Super Bowl Shuffle video. It's so hard to imagine Frazier willfully participating in one of most arrogant displays in professional sports history.
(Sadly, Joe's old enough to remember buffoons — and a few hotties — constantly dancing around to the tune in his high school.)
But current Bucs will know their new defensive coordinator was a stud cornerback on that legendary Chicago Bears team — and it will make a difference, says Brian Billick; they'll listen.
"You look at Leslie Frazier the same way. The guy played. There's an affinity that players have. 'Yeah, this guy played. He understands.' So when he asks us to do something, he's asking us to do that from the reference frame that he's been there himself," Billick told the Ron and Ian show on WDAE-AM 620 today.
Not surprisingly, Frazier referenced yesterday how excited he is to have Bucs icon Hardy Nickerson as his linebackers coach, and Frazier joked how showing Bucs linebackers "Hardy tape" will make them better players. Frazier also has another multi-year Pro Bowler, Gil Byrd, coaching cornerbacks.
Being an ex-player does not mean a guy is a good coach, even if he was great on the field. But it is a bonus when a coach can bring that credibility.
The Bucs have added plenty of that this season on the defensive side of the football. (You can enjoy Billick's entire interview below.)