Will Lovie Sell Tickets?
January 5th, 2014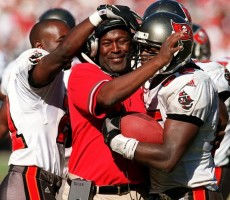 A ticket saved is a ticket earned in the world of One Buc Palace.
When Greg Schiano was head coach and Bucs ticket sales staffers made dreaded late December 2013 renewal calls to season ticket holders, Joe's confident they encountered quite a bit or resistance and rage not befitting the holiday season.
Yes, there are faithful fans who will buy tickets unconditionally, but that's not everybody.
Keeping Schiano would have meant lost ticket sales and widespread angst. Hiring Lovie Smith has brought calm, order and some excitement. Lovie's presence has saved countless ticket sales, but will Lovie sell tickets?
Joe's not sure. And neither is Tampa Tribune columnist Joe Henderson.
Call me jaded, though, on at least one big point. I'm not sure even winning automatically will fill Raymond James Stadium every Sunday and beyond. I think fans are going to cheer with their hearts but stay skeptical with their wallets, at least for a while.
Henderson makes the often rehashed points that fans are comfortable at home and prices are still a big consideration for many.
Lovie alone won't have a big impact immediately at the gate, Joe believes. Bucs fans are a leery bunch, beaten down by too many years of losing and no playoff-game victory since the Super Bowl 11 years ago.
However, Joe thinks Bucs fans will jump on the Lovie bandwagon very quickly if the Bucs win quickly. Fans want to believe, and Lovie offers extreme believability, something Schiano never earned. Raheem Morris couldn't even get community buy-in after going deep in the 2010 playoff hunt.
If Lovie can deliver a ferocious defense and notch Ws, the scene at the Stadium on Dale Mabry Highway could easily flash back soon to the late 1990s –Team Glazer's hope for their new head coach.