Lovie Greasing Wheels For Peanut Tillman?
January 30th, 2014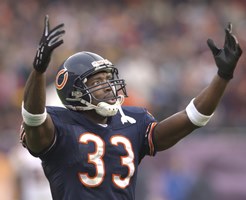 One thing Bucs fans should expect from Lovie Smith is a defense that specializes in forcing turnovers. Like former Bucs commander Greg Schiano, Lovie loves turnovers. The Bucs were already great at turnovers, but the problem was the impotent offense could rarely take advantage of turnovers.
There happens to be a turnover machine in Chicago by the name of Peanut Tillman, a stud of a cornerback. And per Michael C. Wright of BSPN Chicago, talking to former Bears great Brian Urlacher, don't be shocked if Peanut, a free agent, comes to Tampa Bay.
One scenario Urlacher could see playing out is a reunion between Tillman and Smith, now the head coach of the Tampa Bay Buccaneers, who also brought aboard former Bears assistant Gill Byrd to coach the secondary.

"That would not shock me one bit," Urlacher said. "Imagine that corner tandem [of Tillman and Darrelle Revis] right there. I would not be surprised if that happened. But I just don't see them letting him get away in Chicago. He's been too good of a player there for too long to let him get away for nothing."
Urlacher did say in the same article it sure looks like the Bears are trying to purge Lovie's guys from the roster, whether they be smart moves or foolish moves, and Urlacher believes the Bears letting Peanut leave would be downright foolish.
Peanut is a helluva player. Joe loves the guy. But please remember and don't forget, new general manager Jason Licht noted that he would pursue free agents only if he saw value in the move, meaning he isn't likely to get into any bidding wars for free agents.
Would Peanut be willing to take a little less for a Lovie reunion? That remains to be seen.
And what of Johnthan Banks? If Lovie and Licht believe Banks has the talent — and it sure seems like he does the way he played in the second half of the season — then free agent cash may be smarter spent on another position like offensive line?