King: Bortles + Tedford = Bucs Fit
January 17th, 2014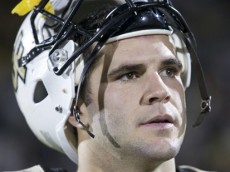 What the will the Bucs do at quarterback next season?
Surely Lovie Smith won't go all-in with Mike Glennon when players return to One Buc Palace in 11 weeks. Somebody with as much or more promise than Glennon will join the roster this spring.Heck, Joe wouldn't be surprised to see five or six quarterbacks in training camp, a throwback to Chucky's Tampa days, with the new regime looking for the best three they can find.
NBC Sports Network draft guru Shaun King, the former Bucs and Cardinals quarterback, likes how University of Central Florida quarterback Blake Bortles might fit with Tampa Bay with the seventh overall pick in the 2014 draft.
King says Bortles needs a season to ride the pine and learn but Bucs fans could be confident he'd get the proper schooling under the new Bucs offensive coordinator Jeff Tedford. In the college ranks, Tedford, a former QB himself, who produced six former first-round quarterbacks, including Aaron Rodgers and Trent Dilfer. King, one of three QBs to lead the Bucs to the NFC title game, offered his take this morning on the Ron and Ian show on WDAE-AM 620.
Despite the NFL.com and BSPN reports of Teddy Bridgewater's stock dropping (might he fall to the Bucs?), King says Bridgewater is hands down the best QB in the draft, and he has a leg up on his peers because he played in a pro-style offense at Louisville. Yes, King also is high on Johnny Football, saying weeks ago that he "is Russell Wilson."
Joe is intrigued by King's take on Bortles as it relates to Tedford. If you have a true QB guru on staff, then it's nuts not to bring in another talented young QB. A guy like Bortles, assuming Johnny Football or Bridgewater can't be had, might work.
Joe doesn't know if Tedford will be a good offensive coordinator, but Joe has to trust that the guy knows QB play. If the Bucs took Bortles with Tedford's endorsement, then Joe would be ok with that. The Bucs must do what they have to in order to improve at the position.