Mike Mayock Talks To Joe
January 15th, 2014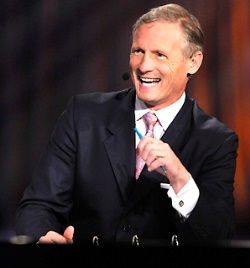 In Joe's eyes, there is simply no other NFL draft analyst. Mike Mayock has no peer. Oh, sure, Mel Kiper has some good insight. But if NFL fans want the most pure, unbiased, deeply researched information on an NFL draft prospect, one can start and stop their research with Mayock.
The NFL Network analyst, who also is a color commentator for Notre Dame games on NBC, was kind enough to give Joe a few minutes of his busy time at the East-West Shrine practices Tuesday to talk Bucs.
JoeBucsFan: Some people think Mike Glennon had a good rookie season. Others think, well, he's a nice backup but he may be not the guy to lead the Bucs to the playoffs. What's your take on Glennon?
Mike Mayock: I thought he had a heckuva year. I think I would take the view that I would be cautiously optimistic that he would be your franchise quarterback. That doesn't mean you don't prepare and try to upgrade the position if you can. But I thought he played really well.
Joe: Da'Quan Bowers seems to be an enigma. When he did play, he did alright. But he never seemed to be able to get out of Greg Schiano's doghouse. What is you outlook with Bowers?
Mayock: I think it is a little bit of what you saw at Clemson. There were questions of durability and work ethic. If he can be a consistent player down-in and down-out, he has the physical skillset to do it. But he hasn't proven that yet.
Joe: Your overall take on the Bucs? A lot of people think former Bucs rock star general manager Mark Dominik did a decent job stocking the team with some talent and that they could bounce back fairly quickly this year with Lovie Smith. Is that a fair assessment?
Mayock: I thought they ended up playing some decent football. They lost some close games earlier in the year and I thought they did a good job of hanging in there and I thought the young quarterback did a heckuva job. So, yeah, I think Lavonte David is one of the best young linebackers in football and I think [Gerald] McCoy, they need to re-sign him. There are some pieces in place to bounce back quickly, yeah.
Joe: It seemed Schiano might have gotten a mulligan because of the Josh Freeman nonsense. Even Bill Parcells, when he lost Vinnie Testaverde in the first week of the season, had a team that fell apart before rebounding. When you lose your starting quarterback early and have to rely on a rookie, you are doomed. Did you see it that way?
Mayock: I just then, when you give — when you hire a head coach in the NFL, I am not a fan of firing him after one or two years. And if you are going to hire a guy, I think you have to give him four or five years to get his program in place. Worst case scenario it has to be three years. But I just don't understand a franchise that fires a coach after one or two years. It doesn't make sense to me.