Team Glazer Spells Out Licht Hiring Criteria
January 23rd, 2014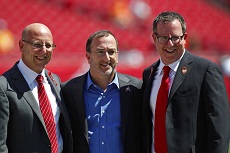 Team Glazer introduced new Bucs general manager Jason Licht today at One Buc Palace.
Ownership made it clear what they were¬†seeking when¬†they¬†searched for their¬†new GM: "Somebody who is all about football, scouting and a strong football background. … Someone who is going to work closely with Lovie in a partnership."
Team Glazer said Licht had three interviews before his hire.
Licht said he met with Lovie Smith two years ago in Chicago and was very impressed, and he thanked Lovie for endorsing him to Team Glazer.
Stick with Joe for so much more out of this historic day.