Yesterday, Today And Tomorrow
September 9th, 2013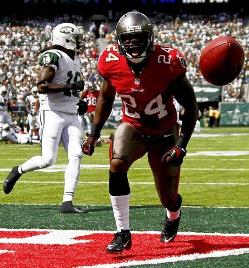 Joe's going to try something new for the 2013 season, and maybe beyond. It's sort of a morning stream of consciousness about the game yesterday, what Joe will write today, and what to look for in the future, along with random non-Bucs thoughts, as well.
Here goes:
The Lavonte David brainfart: Joe is shocked so many Bucs fans, for reasons unknown and somewhat twisted, refuse to acknowledge David's grossly stupid error, giving the Jets a chance to kick a game-winning field goal, which Nick Folk drilled.
Donald Penn was not on the field at the time of the act. Neither was Josh Freeman. Nor Doug Martin, not even Michael Clayton, Jr. Kevin Ogletree.
David was. David opened the door for the Jets, begging the zebras to throw a flag by placing his hands on the NFL's version of a porcelain doll, a quarterback, in this case the Jets Geno Smith. The referees, under direct orders of NFL honchos to protect quarterbacks to silly degrees, were only happy to oblige.
Stop with the "but if David pulls up, Smith could have run up field." Good! Even more reason to not touch him. IF Smith tries to turn up field, the clock runs out and the game is over. Bucs win. Smith had to run out of bounds to kill the clock or the game would have been over at that point. If he throws an incomplete pass before running out of bounds, the game is over.
Joe cannot find a reasonable mind to suggest David didn't cost the Bucs a win. It was that ignorant of a play, that critical of a play at the game's most crucial moment. His action directly led to the game-winning play. It sure as heck wasn't Luke Stocker who got flagged.
Sure, David wasn't the only guy who got a penalty on defense. So too did Dashon Goldson and Mark Barron. Joe got Twitters during the game gloating over Goldson's hits, no matter they cost the Bucs 15 yards. Yeah, Joe likes good hitting, but Joe always thought the object of the defense was to get off the field, not to produce NFL Films highlights.
It galled Joe that Goldson — who Joe really likes — was celebrating like he won Lotto while a flag lay on the ground.
Look, you can whine and cry about how the NFL is now flag football and Joe doesn't disagree. But rules are rules, and until the competition committee changes the rules, if you don't follow them, there will be consequences, in yesterday's case, that consequence was a loss.
Which brings Joe to coaching. David, Barron and to a lesser degree, Mason Foster, defiantly noted in the locker room that this is how the Bucs play defense. Well, someone better tell defensive coordinator Bill Sheridan that the NFL has changed rules, and unless the Bucs decide to follow those same rules, he can and should expect flags, which very well could cost the Bucs another game, or maybe more.
This is undisciplined football, and Joe is shocked that a discipline guy like Greg Schiano would allow this defiance to NFL rules.. Someone needs to teach these guys the new rules. In some circles, that's called coaching.
Yes, Joe loves physical football. The Steelers-Raiders street brawls in the 1970s were awesome. But we don't live in 1975 any longer. To ignore the changes the NFL has made in the game is akin to passing a cop on the highway going 90 mph and then after getting pulled over, whining to the officer about how you hate a 65 mph limit.
Doug Martin's beating: Joe's all for sticking to a gameplan but geez, about the only run Martin had was late in the game when it appeared Freeman read a run blitz and audibled with Martin running right at the blitzer for a big gain.
No, Freeman was not Joe Montana yesterday, but that slant from the left with Vincent Jackson was open all day long and produced many big plays. Joe would have rather seen Bucs offensive coordinator Mike Sullivan call that play time and again as opposing to running Martin into a wall.
Taking the foot off the throat: The Bucs, up 14-5, had the Jets on the ropes and had the ball in the first half. You go up 17-5 or 21-5, and force a rookie quarterback to play that kind of catch-up football, well, the game is all but in the bag. As we all know, the Bucs not just took their feet off the Jets' throats, they helped them up, dusted them off, offered them a sandwich, and bought them a cold beer.
Cut the head off the snake when you get a chance! Don't let it slither away only to bite you later.
No discipline: Joe was shocked by how sloppy, lethargic and undisciplined the Bucs played yesterday.
Joe used to go diving off the Pinellas County shoreline at a place called "The Barges." Shipwrecks have been there for decades, yet some of the pieces of those ships weren't even close to being as rusty as the Bucs looked on offense early. Wow, was there any guess Freeman had fewer snaps in preseason than the number of beers Joe guzzles in a weekend? Add to that dropped passes, two timeouts, and a delay of game penalty on three consecutive plays. Throw in all the silly defensive penalties and it makes Joe wonder where the Bucs' heads were?
Schiano is a disciplinarian and he runs a tight ship and rigid practices. He had to be out of his mind. After six weeks of practices, training camp, preseason games and for the Bucs to come out and play like a bad high school team, well, Joe's guessing Schiano was eating a steady diet of Tums last night.
DJ Toes on the Line: How galling was it that Kellen Winslow, Sgt. Winslow, who couldn't handle Schiano's tough guy ways, and quit on Bill Belicheat, was talking about playing disciplined football in his Jets' win? Winslow had a critical touchdown late in the first half and that had to be unsettling for "DJ Toes on the Line" to be preaching discipline in his first game against the Bucs since being dumped by the current Bucs regime.
Return of Darrelle Revis: If there was one positive, it was the play of Revis. Yes, Revis Island sure looked like old Revis. Sure, it was against a rookie QB. But it was damned good to see Revis deny the Jets a few passes.
Revis will surely be tested by Drew Brees in six days.
Ugly near future: Oh, the next two quarterbacks to test Revis and the Bucs? Tom Brady and Brees. Yikes. If the Bucs let a rookie quarterback beat them, what can two future Hall of Famers do? Oh, and so much for the Saints not having any defense, holding Matty Ice and the Dixie Chicks to 17 points.
Quarterbacks: Bucs franchise quarterback Josh Freeman didn't do a whole lot to muzzle the Mike Glennon Mob.
He nearly bailed the Bucs out by marching the Bucs to a go-ahead field goal with 34 seconds left. Joe sure wishes Freeman could play a full game the way he plays most fourth quarters.
Rookie quarterbacks E.J. Manuel damn near knocked off Bill Belicheat and, of course, we all saw Smith beat the Bucs. Meanwhile, Josh Freeman's record in road contests the past 16 games is a woeful 4-12.
Mason Foster strong: Though he started slow (who didn't?) with poor pass defense, Bucs middle linebacker Mason Foster had a helluva game and a sack that forced a fumble. Great stuff.
VJax: He played outstanding football. If half the team played as well as Vincent Jackson, then a win would have been in the bag. Man, where would the Bucs be without this guy?
Mike Williams: He gave Bucs fans a major scare when he cramped up in the first half, but he returned to be productive again. The Bucs offense was so lethargic at points during the game that the best thing about the offense was Williams' fire engine red shoes.
Lousy stunts: Once in the second half, on a pass play, the Bucs called a silly stunt where Gerald McCoy looped way, way, way to his left. The stunt was so far out to the left that GMC effectively took himself out of the play. He may as well have sat on the bench and taken a break.
When your best defensive lineman is takeb out of a play due to a stunt, Joe wonders just how effective these things can actually be?
NFL thoughts:
Panthers: The Stinking Panthers served notice they are no pushover. Facing a playoff team last year in Seattle, the Panthers held Seattle to 12 points — four field goals! Think it is safe to say the Panthers defense is for real?
Bears: Bratty Jay Cutler threw two touchdowns in the Bears win over the Bengals. This is a team to look out for. The Bears launched Lovie Smith after winning 10 games last year, in part, to light a fire under Cutler.
If the Bucs are going to make the playoffs (quit laughing, there are 15 more games to play), then add the Bears to the Wild Card chase.
Dolphins: They clobbered the hapless Brownies and Joe is thinking Ryan Tannehill could be a top-level quarterback when all is said and done this season. Joe's not ready to call the Fish a playoff team, but watch out for Tannehill.
Lions: Matt Stafford threw a pair of touchdowns in a win against the Vikings, a playoff team last season. Joe doesn't know why people rag on Stafford. When healthy, he is a fine quarterback. He's done something Freeman has never done: get his team to the postseason.
Colts: Andrew Luck wasn't spectacular, but he picked up where he left off with a pair of touchdowns in a win over the worthless Raiders. New offensive coordinator? No problem.
Chiefs: Joe's not jumping on the "Andy Reid is God" bandwagon, yet. The Jags are putrid. Totally and completely putrid. Joe's not sure they could have a winning record in the CFL.
Titans: Like the Chiefs, it was more their opponent's struggles than anything the Titans did right. People rag on Bucs rock star general manager Mark Dominik's efforts to build a defensive line, but what about the Steelers and their offensive line? The Men of Steel have drafted and signed several offensive linemen the past three years and still Mike Tomlin cant't put together a line that can block a stiff breeze. Injuries are part of the equation, but still.
49ers: Really solid outing against the Packers in a rematch of two playoff teams. Sure, the Packers got hosed over a bad math call by the zebras. Joe has a hunch these two old rivals will face each other again in January.
Rams: Joe's not sure this is significant or not. Just how good are the Cardinals? But as the old saying in the NFL, a win is a win. Sam Bradford nearly had 300 yards passing. Wonder if he has turned the corner?
Cowgirls: Joe only has three words: Crying David Wilson (remember how Dominik stole Doug Martin from the Giants by trading up ahead of New York?).
Non-NFL thoughts:
1) Wonder if Georgiafan is still crying over Mark Richt after the Bulldogs throttled South Carolina? Speaking of the Cocks, Joe always thinks it's cool when assistant coaches get into a fight during the game.
2) People rooting for Johnny Football's demise mightwant to settle down. He is actually playing better than he was last year, albeit against cupcakes. Bama in five days is anything but a cupcake.
3) How does Mack Brown have a job? No coach — none! — gets less out of his recruits than Mack Brown. The good taxpayers of the Lone Star State are paying this guy $5 million a year for this schlap? Unless somehow he gets Texas to totally turn things around, it's hard to see how Brown returns to Austin next fall. What will be funny is watching all those oil barons rustle up spare change to make a run at Nick Saban for a cool $8 million a year.
4) Have the Rays finally stopped their freefall? Hopefully. Man, what a choke job the Rays are in the middle of. They were in first place; now they are fighting for their wild card lives.
5) The Redbirds and Reds had sweeps over the weekend and the National League Central is a true three-team race. Is there a more overrated manager than Cardinals Mike Matheny? He is brutal. Just exactly how can he justify trotting out Amy Lynn every five days and expect people to pay their hard-earned cash to watch such tripe?
6) Sorry folks, the USA has zero business in Syria. Joe can understand carpet bombing the place for using gas, but in no uncertain terms should an American serviceman step foot on that poisoned soil.
It's time for America to stop being the world's cop. With so many Americans needing jobs, healthcare, etc., there is no rational reason to invest billions of Benjamins over there.
7) Joe likes the blonde edict of Fox Sports 1.
8) Joe saw Fox Sports sideline princess Erin Andrews covort with eye-RAH! Kaufman of the Tampa Tribune Sunday. Man, she is skinny!
9) Joe will have more on this later this week, but he will recount his trip to the Big Apple and Sopranosland. In short, his stories will include a lost cabbie/thief, body painting, Cornhusker Beer in Times Square and the Gettysburg Address.
10) Joe is so tired, he doesn't even want a cold beer.