Nicks Smiling And Practicing
September 11th, 2013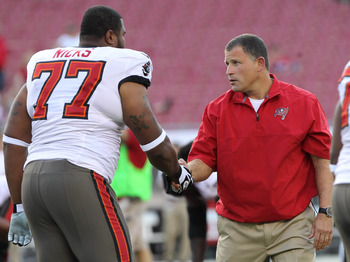 The human armoire, All-Pro guard Carl Nicks, practiced today in pads and was happy to talk to media about it.
Nicks declared that his bum toe is fine, though he'll still have a lifetime issue there, and now it's just getting into shape after beating a MRSA infection in his foot.
"The only thing that held me back was the MRSA. Now that it's gone I'm ready to go," Nicks said.
Nicks took limited snaps today and it's unknown whether he'll be ready for Sunday, against the team he won a Super Bowl ring with, the Saints.
On a funny note, Joe asked Nicks whether he took the extra time off his feet to perhaps add some upper body strength. Nicks laughed and said he's never had a problem with upper body strength.