Genesis Of Schiano-Freeman Football Rift
September 16th, 2013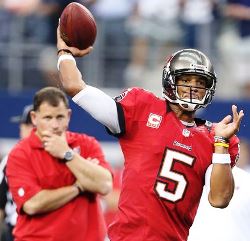 Call Joe a sap if you will — he's been called a lot worse — Joe really believes Bucs commander Greg Schiano and Bucs franchise quarterback Josh Freeman get along. Joe really does.
Listen to Freeman or listen to Schiano talk about their relationship and you hear the passion, see the body language, when they try to explain there is not a rift between the two.
But there is a rift, soft of. A professional rift. And Peter King has connected the dots of why there is growing frustration. It has nothing to do with personalities. It has every thing to do with production (or lack thereof).
Olive oil-lapping, popcorn-munching, coffee-slurping, fried-chicken-eating, oatmeal-loving, circle-jerking, beer-chugging, cricket-watching, scone-loathing, college football-naïve, baseball box score-reading King of theMMQB.com and SI.com explains that Schiano is irked — and rightfully so — with Freeman's ugly win-loss streak.
I think—no, I know—that Josh Freeman was not one of the top two vote-getters to be named a Bucs offensive captain. When the Bucs elected their captains, the vote came right after Freeman's oversleeping and missing the team photo, and he probably wouldn't have won it anyway because of the team-wide respect for winners Davin Joseph and Vincent Jackson. But stories circulated that coach Greg Schiano cooked the vote to make sure Freeman—allegedly not one of Schiano's favorites—wouldn't be one of the two captains. A trusted source says that absolutely didn't happen. So put that story to bed. Not that it matters much; Freeman's not going to be the Tampa Bay quarterback much longer if he continues to lose (the Bucs are 1-7 in his last eight starts, and in their last eight games) and complete 54 percent of his throws (his completion percentage since the start of the 2012 season). People, I believe, are getting this wrong, about Schiano having it in for Freeman. He doesn't. Schiano's a performance guy. When you lose seven of eight and oversleep for the team photo after a so-so offseason, Schiano's not going to be a fan. Has nothing to do with a personality conflict. It's a performance conflict.
Can you imagine? 1-7 in his last eight games? This is on top of Freeman now being a miserable 6-16 against teams with a winning record, a disturbing 4-12 in his last 16 road games, and a gut-wrenching 5-12 in the month of December for his career, and Tom Brady and Bill Belicheat staring you in the face.
Can you blame Schiano? If Freeman continues to slide, and as the Freemanites demand, he keeps Freeman in the starting lineup, Schiano could believe he's going down with Freeman's ship. At some point, you have to start worrying more about your job security and the security of your College of Coaches as opposed to the fragile demeanor of your underperforming franchise quarterback.
Is Joe calling for Mike Glennon? Hell, no! Joe is still adamant that the Bucs' best shot at the postseason is Freeman, and yes, the Bucs are not quite out of the playoff race (yet).