Dashon Goldson Avoids Suspension
September 30th, 2013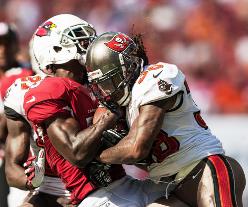 In today's world of Roger Goodell's powder puff NFL, hard-hits are not just frowned upon, but they can break a man's bank account.
Hits that were legal only a few short months ago, and not all that long ago were accepted, coached up and encouraged, are grave penalties.
Guys like Ronnie Lott and John Lynch wouldn't be able to play in today's NFL.
Sadly, one player who plays football the way it was meant to be played, Bucs safety Dashon Goldson, has had to learn the hard, expensive way that touch football, not football, is the desired goal by Goodell.
Yesterday in the loss to the Desert Rats, Goldson blasted Jaron Brown along the right sideline. It was an awesome hit but Joe knew it would be trouble. Joe reasoned that Goldson, who was nearly suspended earlier this season and was able to get out of it through mediation, was going to pay a heavy price if not be suspended because it appeared he was hitting helmet-to-helmet.
Not so, says Goldson. He was just trying to knock Brown out of bounds. Fortunately, per Anwar Richardson of Yahoo! Sports, the NFL agreed with Goldson. No suspension.
Tampa Bay Buccaneers safety Dashon Goldson was fined twice for his overaggressive play this season, and many NFL observers believed he would be suspended after delivering a hit to Arizona Cardinals receiver Jaron Brown this past Sunday.

Goldson received a 15-yard unsportsmanlike penalty after a hit late in the fourth quarter. It appeared Goldson was trying to knock Brown out-of-bounds without a helmet-to-helmet contact. Apparently, the NFL agrees.
Joe has been conditioned to know that if a defender goes high, a yellow hankie will fly.
This is the thing about Bucs commander Greg Schiano Joe has a hard time wrapping his head around. Schiano is a discipline kind of guy. But why can't he teach his defenders to hit the way Goodell wants hits to be made?
Schiano is probably, like many fans, appalled at what the NFL has become. But rules are rules and until those rules are changed, not following them could lead to (more) losses.
Abiding by the rules, no matter how much you may disagree with them, is called "discipline."