About Those Stunts…
September 6th, 2013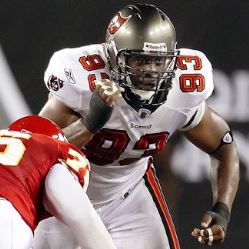 More than a few Bucs fans have thrown their hands in the air in disgust about how the Bucs stunt so much along their defensive front.
Former Bucs defensive lineman Steve White is an outspoken critic of the constant stunting. Joe also remembers Bucs Hall of Famer Warren Sapp incredulously asking Gerald McCoy, "Why are you running over there when the quarterback is over here?" making the case that the shortest distance between two points is a straight line.
In his weekly press conference yesterday, defensive coordinator Bill Sheridan explained the number of stunts isn't so much to find a hole in the blocking or to find a mismatch or to be cute, but simply to get offensive linemen to whiff on a block.
"The main thing is you're trying to get misses in the line of scrimmage from a blocking standpoint," Sheridan said. "A lot of teams are zone blocking or man blocking plays and when we move our guys horizontally; left to right, off an offensive linemen, you're hoping you get some misses and penetration the line of scrimmage. For the most part, it's really called for run downs, especially on first and second downs. We're doing that with the intention of disrupting the run.

The way we do it, because our second level players – even though they have coverage on people – if those guys stay in and block, they end up becoming additional rushers. So a lot of times, especially on first and second down, when those quarterbacks are hanging on to the ball off the play action, we actually end up having additional guys rush in there, you can see that on the film . It's normally called for a run down. Again, we're trying to disrupt the blocking patterns and – not just be stationary where they know where we're going to line up and this is how they're going to block us. We might be moving inside or outside off the different shades we play. But, again, if they hang onto the ball, – the more guys they keep in, a lot of times we get additional rushers coming in."
While this may sound good in theory, thus far in practice, it has holes — not the kind the Bucs are looking for.
When it comes to running stunts on the rush, well, the Bucs led the NFL in rushing defense last year.
When it comes to running stunts to get to the quarterback, the results speak for themselves. The Bucs were pathetic at putting quarterbacks on the ground.
Given the fact the Bucs were on the extreme edges of defensive production last year, perhaps a moderation of sorts in the stunts may work to the Bucs' benefit?