Davin Joseph Throwing Bodies To The Ground
August 20th, 2013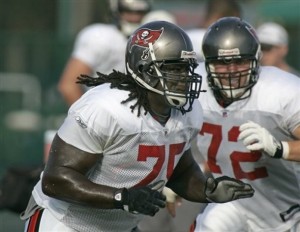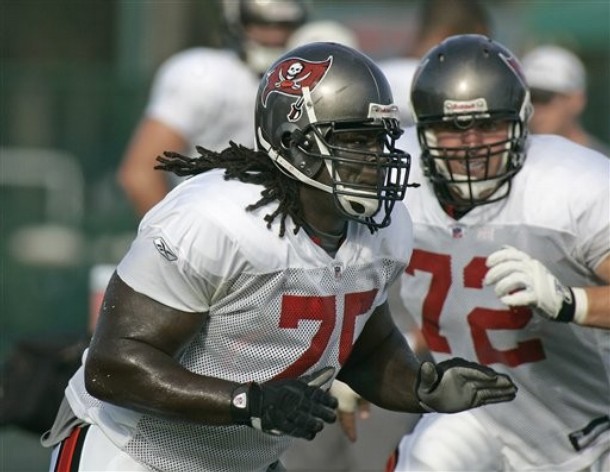 As down as Blistergate has many Bucs fans, Tampa Bay faithful should be uplifted by what's happening at the other guard position.
Davin Joseph is progressing well. Yes, Joe heard Joseph talk on the subject, and Joseph practiced intensely the past two days. But Joe's more excited by what he hears Joseph's teammates saying about him and his surgically-repaired knee.
Take the Bucs' resident strongman, rookie nose tackle Akeem Spence. He got his first taste of Joseph this week and was blown away.
"Davin, he a beast. Yeah, he a beast. Gerald used to tell me. Before, you know, I looked at [Joseph] and I just didn't see it and then I lined up against him yesterday. He threw me to the ground," Spence said. "The guy is good, man. I got a lot of respect for him."
Gerald McCoy explained to reporters today about how Joseph has been sort of his personal training partner through past training camps and about how excited he was to have Joseph getting after him again. Per McCoy, he and Joseph have a rule where they agree to go at each other 100 percent and not hold back, all in the name of improvement.
Joseph also told Joe about how he gained inspiration through his rehabilitation remembering how Cadillac Williams — twice — fought threw the same torn patellar injury with a smile during the daily grind at One Buc Palace. Joseph said attitude, like Cadillac's, is the key to a successful recovery.
Will Joseph be ready for opening day and the grind of a full season? Joe's got a lot more hope than a week ago.