Davin Joseph Catches Donald Penn's Eye
August 24th, 2013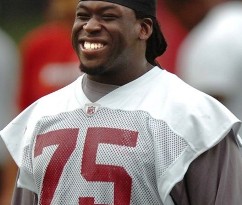 Yes, it has been a rough week for Bucs fans. With the MRSA scare and the bad news about Carl Nicks that accompanied it, following a lackluster effort in New England, Joe can understand why Bucs fans heads are pounding this sunny Saturday morning.
Thus, Joe will try to cheer them up.
There is a chance, though Joe wouldn't put much cash on it, that Bucs guard Davin Joseph could log a play or two tonight in South Florida when the Bucs face Miami. Joseph practiced all week and while it may be premature to put a guy in a preseason game after just a handful or practices, Donald Penn said he saw all he needed to see from his teammate to believe Joseph is ready to roll.
"He's had a great week of practice," Penn said. "I think he's kind of underestimating where he's at right now, because he really did great this week in practice. He really looked good."
Joseph at least practicing with the first team, and practicing well, bodes well for when the Bucs travel to Gotham to face the Jets to open the season.
So there you have it Bucs fans, a bit more sunshine in your otherwise gloomy Bucs morning.