Cody Grimm Dancing With The Bubble
August 13th, 2013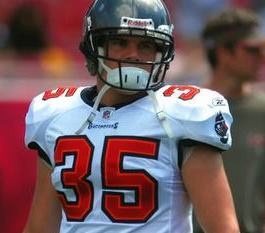 When the Bucs loaded up on safeties the past two offseasons, drafting Mark Barron in the first round in 2012 and signing Dashon Goldson in March, it didn't do much for the job security of former starting safety Cody Grimm.
A strong special teams player, at times as a starter Grimm was terribly exposed, but when healthy he proved to be a force against the run. That was the problem with Grimm. He had a nasty injury bug and fought to not just stay healthy, but stay on the field.
With a logjam at safety — reserve Ahmad Black got considerable playing time last year — and a few minor brushes with the law in Virginia (very unbecoming of a Buccaneer Man), it didn't do much for Grimm's job security coming into this training camp.
Grimm began training camp working largely with the third team and got some second team reps. But of late, Grimm has had a few snaps with the first team defense and hasn't been embarrassed.
His play in training camp has even got the attention of Bucs coach Greg Schiano, who noted how smart of a football player Grimm is and how he is an asset to special teams, but quickly qualifying his comments adding that there are good players who will not make the final 53-man roster.
Grimm took time to talk to Joe after the final practice of training camp yesterday to discuss his hopes of hanging on in Tampa.
"Obviously, I hope I make this team but all I can do is work hard," Grimm said. "You can't look that far ahead. So much stuff can happen. I could not be on this team or I could be starting if someone goes down. So you have to come in here every day and act like you are a starter. You cannot predict the future. "
Grimm makes a solid point. Due to a variety of factors, as a rookie, Grimm found himself in the starting lineup with the Bucs. No one can predict injuries or even, sadly, suspensions (like the antics of the Adderall Twins, Aqib Talib and Eric Wright).
Per Grimm, all he can do is give his best effort and make it difficult for the Bucs to wave him goodbye. "No, [no goals set from Schiano], we are all going to come out here and get our reps throughout the training camp and you have to take advantage of every rep you get."
Grimm lauded new teammate Goldson for taking over the safety unit both on and off the field, but even Goldson needs help at times, and has turned to Grimm on occasion.
"That is the thing about the safety room, [Goldson] teaches us some stuff but he is new to the system and we teach him some stuff, [defensive] looks and things like that. It is kind of crazy."
While he's still very much on the Bucs roster, Grimm has been enjoying Goldson's taste in pizzas he springs for.
"They are loaded," Grimm laughed. "He gets everything [on them] and everyone eats a good bit."