"Pass Rush, Pass Rush"
July 25th, 2013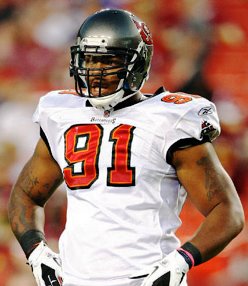 Joe senses Bucs fans are geeked for the season to start, and not because they are suffering from wagering withdrawal symptoms or are fantasy league addicts or just plain football junkies.
No, there is something in the air and it's not just the scent from the perfume of curvy Rachel Watson. It's the smell of pending victory (no, not napalm). With a revamped secondary, a healthy offensive line and Pro Bowlers sprinkled throughout the roster, there is real reason for Bucs fans to be excited after a lost decade of frustration.
But hold up! The great eye-RAH! Kaufman of The Tampa Tribune admits the Bucs are an improved team but is still troubled by a lack of a pass rush, so he told "The Fabulous Sports Babe" on WHFS-FM 98.7.
"There are still a couple of areas of concern. To me, [Josh] Freeman is obvious. Pass rush, pass rush. [Darrelle] Revis helps a lot. Revis is the best. He's the best at what he does. Nobody disputes that and I think he's going to be healthy.

"The pass rush to me, they are going on faith a little bit with [Da'Quan] Bowers. [Adrian] Clayborn is good but he's not Simeon Rice. [Gerald] McCoy had five sacks and a Pro Bowl season. The nose tackle is a negligible factor in the pass rush. And they don't blitz a lot, at least not effectively. Every year we say [the Bucs need a] pass rush and they get 25 sacks. It's not good enough. Will Revis help that? Yeah, he will help a little bit. But Johnthan Banks is unproven. As bad as that secondary was last year, they need more than Darrelle Revis."
Joe knows this is a little water under the bridge, but even though Bucs sack leader Michael Bennett was damaged goods, for the cheap price of retaining him another year and all the space on the salary cap, why not take a chance he could fight through injuries again and provide 10 sacks?
Joe knows Bowers would have been a top-five pick had he not had a bum knee at the time of his draft, but Joe agrees with Kaufman that the team is putting a lot of eggs in Bowers' basket. While talented, he struggles to stay healthy and hasn't exactly made people forget Reggie White yet.
Joe likes Bowers a lot. So too do Bucs coaches. But can he provide double-digit sacks this season? The key to the Bucs' defense may very well fall at his feet.