Nicks Guarantees Start Week 1
July 28th, 2013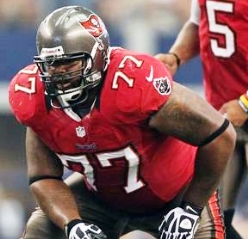 There was much angst last week when the Bucs reported for training camp and hulking left guard Carl Nicks was spotted with his injured toe "heavily bandaged."
Bucs fans nearly freaked. Nicks barely made it to midseason last year as he played most of the time with an uglier than ugly turf toe until the pain was simply too much for him to bear.
Nicks has been limited in training camp thus far, largely on the orders of Bucs coach Greg Schiano, largely as a precautionary measure. Nicks is a veteran and an All-Pro, so Schiano and the coaching staff trust that Nicks knows how to get himself ready as he is eased back into workouts.
Last night after the Bucs' night practice at the Stadium on Dale Mabry Highway, Nicks said he will be in the starting lineup when the Bucs travel to the New Jersey Swamplands to face the Jets.
"Guaranteed," Nicks said.
So there you have it: No need to fret about Nicks or his toe. Nicks will be ready to rock and roll come September.