More Evidence Revis Is Healthy
July 23rd, 2013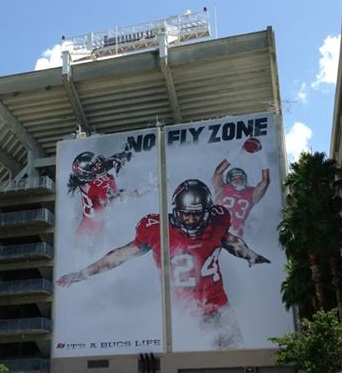 When Joe pounds the streets on hot June days selling the best advertising value in the history of Tampa Bay marketing, Joe chats with a lot of serious Bucs fans. And outside of being gripped by Josh Freeman fears, these fans most want to know if Darrelle Revis' knee is really healthy.
Joe gets it. Revis' knee is arguably the most important joint in recent Bucs history, surpassing Cadillac Williams' and those of Tanard Jackson  and Jeremy Stevens.
Imagining a healthy Revis on opening day helps Joe sleep at night, even better than envisioning the warm embrace of Rachel Watson while Joe cradles a frosty beer.
The latest on Revis isn't really news, but Joe knows it will soothe many fans seeking any sign that the secondary savior, the $16 million man is more than ready.
The photo above is of the side of the Stadium on Dale Mabry Highway and was released by the Bucs on Facebook yesterday. Mr. Revis himself even fired it off on Twitter, all pumped up about leading the "No Fly Zone" to his 368,000+ followers.
Joe can't imagine Revis and the Bucs would engage in these kinds of fan-arousing tactcs if Revis wasn't truly ready to ball.