Johnthan Banks Holds His Own
July 27th, 2013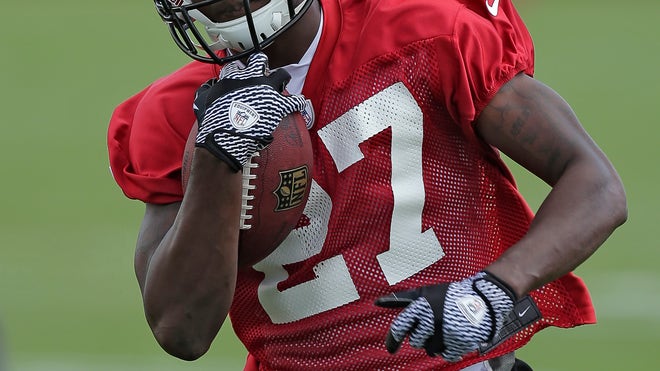 It was Johnthan Banks' first time with pads on this season, the first time taking the field on the Stadium on Dale Mabry Highway. First time before thousands of Bucs fans on a steamy day turned comfortable evening.
That wasn't all. Bucs coach Greg Schiano decided to throw Banks, a second-round draft pick rookie, to the wolves right away. With cornerback Darrelle Revis still on the sidelines, Schiano put Banks up against mostly Vincent Jackson and periodically Mike Williams.
The Mississippi State product didn't embarrass himself. More often than not he made a play and more importantly, kept Jackson from making one.
In a sense, it may have been a morsel of what Bucs fans can expect from Banks, who discussed the evening with Joe while stadium fireworks were poppping in the background.
"It was a good learning experience to get out here in front of the fans and play in a big stadium and scrimmage against those guys. I was going up against VJax and Mike [Williams], some of the best receivers in the league. I was just out there challenging myself to see where I am at," Banks said. "I think I did well but I still have a lot to learn and to get better. I just need to keep playing my role on this team and hopefully get us a championship."
"It felt good to get out there and get physical for the first time. Now I feel like a pro football player.
"The [atmosphere] was great, Buc Nation. The stadium wasn't even filled but it was loud. It was great. I love it here, I love these fans and I think they love me. It's great. Just need to start playing some football."
Banks looked smooth before an estimated crowd of 33,000 Bucs fans. Again, he never got lit up. For a rookie going against a Pro Bowler and a guy on the cusp of the Pro Bowl his first time on the turf of the Stadium on Dale Maybe Highway, that's damned good in Joe's eyes.
Hopefully when/if he starts Week One against the Jets, Banks can continue to hold his own against the likes of Braylon Edwards.