High On Johnthan Banks
July 29th, 2013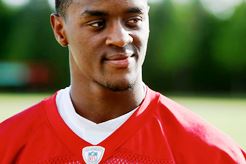 How well does WDAE-AM 620 Bucs beat reporter Tom Krasniqi, known in some circles as "TKras," cover the Bucs? He is such a fixture at One Buc Palace, he still smells sweat when he is home at night.
Krasniqi, like Joe, has seen every minute of every Bucs practice so far in training camp 2013, and the player he believes is turning heads most is rookie cornerback Johnthan Banks.
If you had to name the biggest star so far at camp, the name Johnthan Banks keeps popping up. The rookie cornerback was the team's second round pick and he's been impressive. Banks has the size (6-2, 185lbs) the team craves and he's been physical off the line of scrimmage.

Banks believes he's more than just a big, physical cover man. He's also a ballhawk too. "I think I have really good ball skills. I had 16 career interceptions in college but one thing about getting your hand on the ball is… you have to know the defense. It's one thing I've been working hard at…learning the defense, being comfortable and confident. I'm going out there and playing with a lot of swagger." There's no question he's done that since he's been here.

As impressive as he's been on the field, the Bucs like his maturity off the field as well. "Johnthan is a mature guy," said Schiano after Sunday's practice. "I get the sense he's pretty into his family and taking care of them. Yet, he's got a really good sense of humor. He's a fun guy to coach and he loves the game of football."
Now Joe would say the guy flashing the most in training camp is Mike Williams, but that is quibbling. Banks is playing strong.
The thing about Banks is he's confident without being cocky. There's a difference. He's not so cocky that he doesn't believe he cannot learn. He always talks about how much he is learning from Darrelle Revis, Dashon Goldson and yes, even Leonard Johnson, about performing as a pro.
Banks will need all the help he can get as there will be few rookies targeted by opposing quarterbacks like he will be. Any corner starting opposite of Revis will be targeted, naturally. But Banks is a rookie and on top of that, he will be facing Drew Brees, Matty Ice and Cam Newton twice this season.
In short, Banks will be baptized by fire. Quickly. Here's what Banks had to say about becoming a Buccaneer Man after Sunday's practice in this WDAE-AM 620 audio.