Expect Josh Freeman To Return In 2014
July 23rd, 2013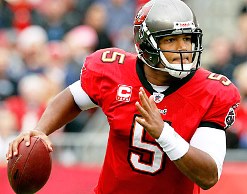 No subject gets Bucs fans worked up more than Bucs quarterback Josh Freeman. At times, he looks like the second coming of Ben Roethlisberger. Other times, he looks like the second coming of Rob Johnson.
At his best, Freeman is among the elite of the elite quarterbacks in the NFL. At his worst, he makes Bucs fans run to the nearest liquor store and demand the return of Trent Dilfer.
Some fans have had enough of the Freeman rollercoaster and simply want to turn the page. Well, for said fans, Woody Cummings of the Tampa Tribune has bad news for you. Barring a complete and utter collapse by Freeman and the Bucs this season, a Walter Football-type collapse, Freeman will return as your Bucs starting quarterback in 2014, and very likely, beyond, as Cummings told Howard Balzer and Dan Leberfeld, co-hosts of "Press Coverage" on SiriusXM NFL Radio.
"Josh had a pretty darn good season last year if you break it down. He had two or three bad games and they came at the end of the year which scarred the whole thing. He threw for most passing yards – more than 4,000 yards – in Buccaneers history and threw for 27 touchdowns. He was really moving along very well until very late in the season.

"If he has that kind of a season again the Bucs will be in a tough situation. He is certainly capable of putting together 15 or 16 superb games. It is a matter of consistency. I think the fact he is in a system, the same system for a second year in a row for the first time in his career, truly the same system. I think that will benefit him. He now has four years of experience. He is a very confident kid. It is very hard to predict how this is going to go.

"I can say this: If he just does his job he will do just fine. He has all the ability in the world. At the end of the day, after putting in so much effort, time and of course, money, into developing Josh Freeman, I have a hard time believing that no matter what kind of season he has unless he has 14 horrid games and this team goes 4-12 or something, I have a hard time believing this team will let him go. I think at the end of the day he will remain a Buccaneer. His play will determine for how long he will remain a Buccaneer whether it's a one-year deal, maybe a two-year deal or a $100 million five-year type deal. At the end of the day, I think [the Bucs] probably stick with Josh Freeman and you know what? At the end of the day, I say he will earn that right."
Well of course, if Freeman earns the right to return as Cummings suggests, Joe is of the belief the Bucs would have been fighting for a playoff berth or in fact will be playing in the postseason this January.
Even if Freeman has an average year, Joe's pretty sure Freeman will be franchised if his agent tries to play hardball with Bucs rock star general manager Mark Dominik.
If Freeman plays more like his 2011 season than his 2010 season, and the Bucs fail to make the playoffs, all bets are off.