Bowers Accepts Sapp's Challenge
July 28th, 2013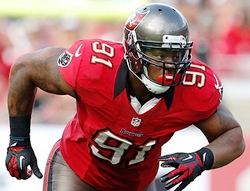 This week, former Bucs great Warren Sapp becomes a member of the Pro Football Hall of Fame. He doesn't live in the Tampa Bay area any longer but his heart is still with the Bucs.
He has a strong bond with current defensive tackle Gerald McCoy, who often praises Sapp for being his personal tutor. It appears that Sapp has also developed a relationship with defensive end Da'Quan Bowers.
The Clemson product slipped deep into the second round falling from what may have been a top-five pick over fears of a severely injured knee. Injuries unrelated to this knee have kept Bowers off the field quite a bit for the Bucs.
Healthy this year, Bowers is starting the season anew, with Sapp's help and a direct challenge from Sapp to start producing. Bowers, speaking after the Bucs' practice last night, accepted Sapp's words.
"I call him 'Big Unc,'" Bowers said. "He's a great mentor. You have to respect the guy. When he played so long and did the things he did. His view, it is fire. Getting me going and competition. Hey, I have to live up to it. That's all. If he didn't believe in me, he wouldn't have said it at all.

"I never doubt myself. That's one thing I will never do. I know what I am capable of. I know what I need to do to get where I need to be. It's all about doing it. One thing I can say, I never planned on getting injured. You cannot control it. All you can do is bounce back and be stronger."
Joe noticed when Sapp was at practice Thursday, there was a moment after practice where Sapp put his arm around Bowers and the two had a long chat. Joe can only assume the conversation centered around putting heat on the quarterback.
For the Bucs to improve defensively, the team simply must get to the quarterback more. It's not even up for debate. Bowers is a critical cog in that goal. If Bowers can finally live up to his ability, he single-handedly could turn the Bucs pass rush from feeble to frightening.