Beginner's Mentality
July 31st, 2013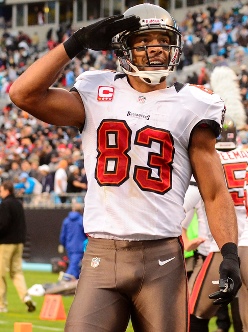 One could make an easy argument that the most valuable player on the offensive side of the ball is Vincent Jackson. Yes, Jackson is as talented of a wide receiver as they come. But it's the intangibles Jackson brings to the table as a veteran that prove his worth.
Work ethic is a key for Jackson. So much so he believes his mindset along with his work ethic are the reason for his success.
"It's a beginner's mentality," Jackson said. "I come out here like I am trying to earn my job. From there, I act like I have never been in the system. Take notes every meeting. Come out here and work on fundamentals and individual drills. Work on the small things. Catch balls in different positions. That's what I do every year. I do that at the start of every season and maintain that. Take care of your body and focus on your job."
Mike WIlliams often points to Jackson for him being the player he's become. Last year, Williams said, he learned by Jackson's example of how to be a pro — little things like how to take notes in meeting rooms, how to study film, things that add up to big success.
It's the word "success" that Jackson uses for the Bucs offense. He believes the team is on the cusp of blowing up this season.
"Another year under our belt [with offensive coordinator Mike Sullivan]," Jackson said. "I think there is a lot more confidence and comfort in what people are doing out there. People are moving a lot fester. We are able to implement new things and add some nuances of our offense. It is fun.
"We added some great pieces to the offense and with guys being in the second year of the offense, guys are more confident in what they are doing. Coaches are more confident in the players in what was going on out there. I think we will be very, very solid on offense this year."
Now this is an aspect Joe didn't focus on; now that players are more familar with Sullivan's offense, they are adding new and different twists in order for receivers like Jackson to get mismatches on, say, a nickel corner.
If coaches are comfortable with players in this offense, Joe is going to guess fans will be happy with the results.
To hear all of what Jackson had to say after practice today, click on the arrow below. Audio courtesy of Joe's good friends at WDAE-AM 620.