"I Was Ornery"
February 3rd, 2013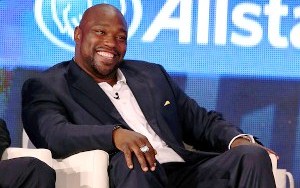 Last night, Hall of Fame elected Warren Sapp appeared on SiriusXM NFL Radio to discuss his election to the Pro Football Hall of Fame just minutes earlier.
Sapp, as one can imagine, was giddy, boasting how his daughter Mercedes would be his presenter in Canton this ,summer.
But then, Sapp grew reflective if not wistful. He admitted to co-hosts Howard Balzer (a voting member of the Pro Football Hall of Fame) and Gil Brandt, that he doubted whether he was going to be elected yesterday because of his often rude, hostile attitude towards reporters, and he wondered if his act would, in turn, bite him.
In sort of a regretful tone, Sapp explained his often incorrigible ways with many reporters.
"In 13 years in the locker room I never once shook a reporter's hand," Sapp said. "I figured you were going to get your information either way so I didn't have to be your friend.
"Oh, I was ornery, no doubt about it."
Also last night, Jamie Dukes of the NFL Network lashed out at Pro Football Hall of Fame voters claiming there was a grudge between Charles Haley and former NFL beat writers. In many respects Hailey was the precursor to Sapp where media relations were concerned, in some cases worse.
Joe has only one question for Dukes: If reporters truly hold a grudge, how did Sapp get in on his first trip to the plate?