"So Many Overwhelming Challenges"
November 29th, 2012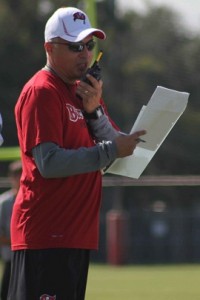 When it comes to coaches talking to the media, Bucs offensive coordinator Mike Sullivan is no Raheem Morris.
Sullivan isn't prone to hyperbole or crazy talk. So Joe's ears perked up yesterday when Sullivan answered a question about maintaining possession of the football to keep Peyton Manning off the field.
"To be honest with you, there's so many overwhelming challenges in looking right at this defense right now we're really just zeroed in on how we're going to move the football and how we're going to put points on the board," Sullivan said.
Earlier, "Sully" called the Broncos "the best defense we've played all year."
So where are the Broncos vulnerable?
Denver-area resident, Bucs icon, and the FOX color analyst for Sunday's game, John Lynch, said on WDAE-AM 620 this morning that the Broncos can be pounded successfully between the tackles.
However the Bucs choose to attack, Joe knows they can't afford to fall too far behind. They've got to remain a two-dimensional offense. A miracle comeback like the one against Carolina would be near impossible in Denver.