Chargers Coach Wowed By Security
November 9th, 2012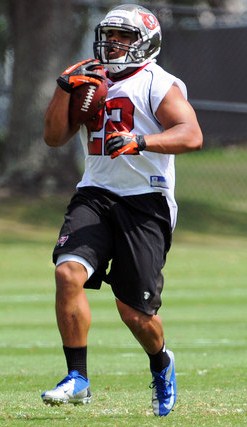 Doug Martin's got 174 touches this season and no fumbles. It's a standout stat, but the reason behind it is what impresses Chargers defensive coordinator John Pagano.
Pagano chimed in this week on the Bucs rookie and said Martin's ball security is impeccable.
"When he gets up, even handing the ball to the officials, it's always high and tight," [Pagano] said.

Be sure to watch Martin, the coach said, "if you ever want to see a guy who really takes care of the football every time he runs through the line of scrimmage."
Joe didn't scount Martin at Boise State, but the bite-the-football, high-and-tight fundamentals of ball security are a never-ending staple of every New Schiano Order practice — for every player.
It's paying off.