Mess On Right Side Messes With Left Side
October 11th, 2012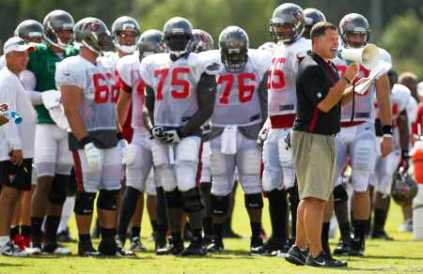 Joe had an interesting chat yesterday with Bucs stud left guard Carl Nicks. It seems that the musical chairs on the right side of the Bucs offensive line has had a ripple effect on the entire Bucs offensive line.
It's fair to call the shell game of players going in and out of the starting lineup on the right side of the line a mess.
First Ted Larsen replaced Davin Joseph and then starting right tackle Jeremy Trueblood was replaced by Demar Dotson. Now, it seems Trueblood very well could replace Larsen. Yes, that Jeremy Trueblood who hasn't played one snap at guard since he graduated high school. In a handful of days he's supposed to be able to play guard in the NFL?
But all of this inconsistency on the right side is messing with the left side, Nicks explained to Joe. Now let Joe be clear, Nicks was not searching for any excuses. He was just being real with Joe, which Joe appreciates.
"To be honest, I try not to let it affect me, but it is in the back of my head," Nicks said of the rotating starters on the right side. "It can't really be a priority [for Nicks] when you have to go out and block. We all have to be on the same page. I trust the coaches."
Nicks went on to say that an offensive line has to play as one, almost like a dance troup or an orchestra. If one guy — Nicks was quick to point out it could even be him — wasn't in line with the rest of the line, bad things happen.
"It's about continuity," Nicks said. "You need to be on the same page. If one guy isn't that could mess up the whole line. Not saying one guy will be, but you need to play games together to build up that trust and belief, to know how guys block in certain techniques."
While Nicks admitted the rotating starters is a concern, he does his best to block it out because his No. 1 job is to block the guy on the other side of the ball from him.
"It sounds real basic, you just have to do your job," Nicks said. "You can't worry about the the next position or who is playing what or flip-flopping."
Nicks even had a radical idea when it comes to the offensive line. Nicks thinks that offensive lineman should be interchangeable not unlike other positions.
"I really am a firm believer in, why can't we [offensive linemen] rotate like receivers and running backs?" Nick said. "I'm with that."
So too seems to be Greg Schiano, who all but admitted Wednesday he's trying to find the most talented five guys to put on the line. If that means a tackle should be playing guard, so be it.