Bucs Lucky To Have Tiquan Underwood
October 14th, 2012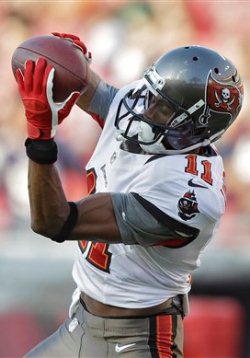 When Joe watched so many training camp and preseason practices this summer, there was one player who jumped out repeatedly: Tiquan Underwood.
The former Rutgers (always important) and Patriots wide receiver was making play after play in each practice, and continued to do so in preseason games.
Yet, when the final cuts were made, Joe was flabbergasted to learn Underwood was a causality. Joe just couldn't believe this and still Joe shakes his head.
Early in the season, Underwood was brought back when Sammie Stroughter went on the injured reserve list and Preston Parker was sent packing.
Underwood showed again today why he is a valuable receiver, and perhaps the Bucs new No. 3 receiver when he fought Chiefs defensive back Kendrick Lewis for a pass that turned into a 62-yard reception.
Underwood spoke about the play, and what it meant to return to the Bucs and play significant roles in games.
"We made plays for [Josh Freeman] today," Underwood said. "[Lewis] actually tipped it, I was trying to reach for it, we were righting for it, fortunately, I was able to catch it. As receivers, we do a lot of ball drills and with [Bucs receivers coach] P.J. Fleck, we work on a lot of things.
"For me, I just control what I can control, and that is my play. I cannot control who they cut. I can't control roster moves but I can control my play. I did that in the preseason and I am trying to do that now."