Bucs Holding Steady With Three DEs
October 9th, 2012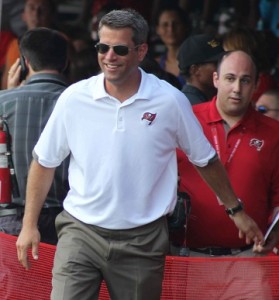 An interesting non-move of this bye week involved the Bucs not adding another defensive end to their 53-man roster.
Things could change tomorrow, of course, but right now the Bucs have four tight ends and three defensive ends. That's a pretty rare combination in the NFL.
Adrian Clayborn was lost for the season against Dallas, and the Bucs seem content to stick with Michael Bennett, Daniel Te'o-Nesheim and George Johnson.
Good for those guys, but that's awfully flimsy depth.
Joe will be watching to see if Dekoda Watson and Quincy Black get more opportunities to put their hand on the ground Sunday.
Joe also will keep an eye on how Andre Carter does for the Raiders against Atlanta. It will be Carter's first game of the season. He made the Pro Bowl last season for the Patriots and was signed recently by Oakland — after Clayborn went down. Joe would have been pleased to welcome him to the Bucs.