Air Atlanta Embracing New NFL
October 9th, 2012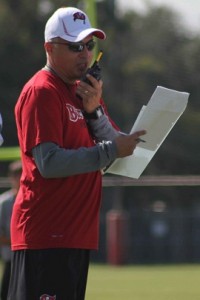 Before last weekend's slate of games, BSPN reported that the undefeated Atlanta Falcons were dropping back to pass on two-thirds of their offensive plays despite playing with a lead nearly 80 percent of the time.
Then the Falcons went out Sunday and attempted 52 passes en route to beating the Redskins in Washington.
Yes, Michael Turner was healthy and grinded out 67 yards on 18 carries.
The Falcons appear to have completely embraced the throw-first mentality of many winning NFL teams. And it stands out, considering how much success they've had pounding Michael Turner in the running game on first and second down over the past four seasons.
Joe's a big fan of running the football, and believes the Bucs definitely need to establish a diverse and effective rushing attack, but it is amazing to see how much the game is changing on offense.
Mike Sullivan and his 2011 Super Bowl Giants had the lowest yards-per-carry average in the NFL last season. And the Giants were in the bottom third of the league in total rushing attempts.
Joe doesn't suspect the Bucs will come out tossing the ball around the field Sunday, but don't think that Sullivan isn't one who knows what a passing offense looks like.