"We Were Well-Coached"
September 10th, 2012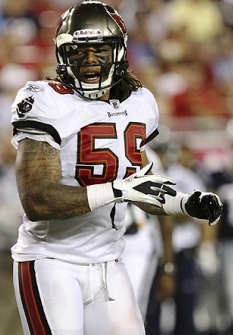 Joe had a chance to talk with middle linebacker Mason Foster after yesterday's win over the stinking Panthers. Foster explained how it was that the Bucs held the stinking Panthers to a mere 10 yards rushing.
JoeBucsFan: Mason, talk about how strong your defense was today. You held the Panthers to 10 yards rushing. That's incredible to do that to any team, but to do that against the Panthers and Cam Newton and DeAngelo Williams, that's an incredible job.
Mason Foster: One of the main goals was to stop the run. So I felt we did a great job. The defensive line played well, we were making gang plays, making plays on the back end so we were just playing. Yeah, we made a few mistakes, but we were playing balls out, making plays, playing off each other.
Joe: Not sure Newton has had a rougher day than he did against your defense. He had just four yards rushing. You were a big part of that. You made an open field tackle on him when they were deep in Bucs territory.
Foster: That's stuff we practice every day. We practice tackling. We knew we had to come up and make tackles in the open field. [Newton] is going to make his plays but we have to make more plays than him. Guys came out and made plays. We have to continue that and keep working.
Joe: This was like the old days of the Bucs, meaning the offense was struggling in the second half and the team had to rely on the defense to not let Carolina take over, to be the rock of the team. And you guys answered the bell.
Foster: We have a great group from the ones [first team] to the twos [second team], to everybody. Anyone that hopped in the game was making plays and rushing hard, covering good. All kinds of guys, that's what you love to see. We were well-coached. We can get better. But it is encouraging to see people hopping in there and making plays.