Tougher Bucs Better Than A Train Wreck
September 11th, 2012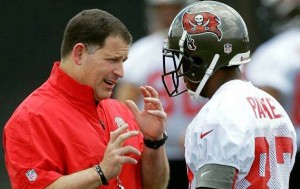 At times Sunday, Joe wondered whether he was hallucinating. Was the Bucs team on the field really the same lot that ended the 2011 season with a grotesque 10-game losing streak?
No, it was not. The addition of key players, both veterans and rookies, along with a new mindset has the Bucs "tougher," so writes Joe's good friend Jason McIntyre of TheBigLead.com, one of Joe's many proud media partners.
The Bucs are Tougher: Ten rushing yards allowed, and much stronger defense. Mark Barron made a huge impact, getting big hits, and also defending a key third down pass as Carolina was trying to rally. Carolina's defense played better after a rough start, and Tampa still needs to get better offensively. Will we see a turnaround like the 49ers? I think that is optimistic, but they are clearly a better team than the train wreck that developed under Raheem Morris.
Train wreck? No, that wasn't a trainwreck. That was a train flying off a cliff last year.
This team is a team. It's eats, sleeps, breathes as a team (thank you George C. Scott). Which is why Joe found an element of Schiano's call-in radio show heard on the Buccaneer Radio Network, locally heard yesterday on WDAE-AM 620, so interesting.
Schiano is uncomfortable with the football term "go make a play." He believes such a mindset is prompting a player to try to do too much, which thus results in freelancing.
Schiano reinforced his mantra that if every player just does his job the way he is coached, more often than not, the result will be beneficial. When players stray with the mindset of "go make a play," is when things break down.