Strange Call At 3rd-And-A-Foot
September 9th, 2012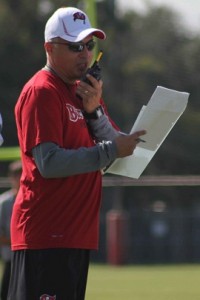 Joe's drinking cold beer. Joe's as fired up as the next Bucs fan by the Bucs playing a near perfect game, but Joe can't ignore a play-call today that had Joe reaching for his trusty pack of Tums.
Leading 10-0 in the second quarter, the Bucs had fluidly moved the chains on a long drive from their 8 yard line to about 10 inches from the Panthers goal line.
It was third down.
And rather than let Josh Freeman run a sneak behind Carl Nicks, or stamp their new physical identity for the home fans with a different running play, the Bucs opted to pass the ball. Nobody was open in the end zone and Josh Freeman dumped the ball off to Erik Lorig, who was tackled for a loss.
Joe was furious. That was not the Bucs who came out in the preseason opener and ran four times on 1st-and-goal for a score. Joe didn't think the Bucs should have gone for it on fourth down. Don't be mistaken. But the pass call on 3rd-and-a-foot was not good. Not for this team.
Yeah, Mike Sullivan's a genius if it works, and he called a good game, but Joe didn't like that one call.