Mike Bennett Wants To Stay Put
September 24th, 2012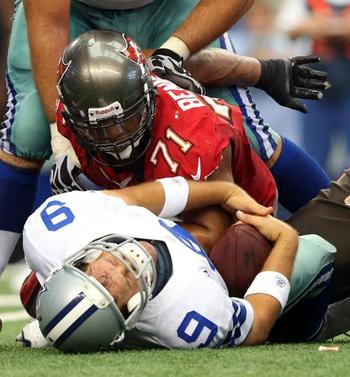 With Adrian Clayborn on the shelf with a busted up knee, who's going to play right defensive end for the Bucs?
Daniel Te'o- Nesheim, Sunday's replacement?
George Johnson, the Rutgers holdover from the Raheem era who wasn't activated yesterday?
Michael Bennett will be happy with either one of those guys there, as long as it's not him at right end, so he told Joe this morning. Bennett also said Te'o-Nesheim is a guy who makes plays and just needs an opportunity like this.
"Daniel is a very impressive player. He was a third-round pick and he just needs the opportunity. Every time he gets the opportunity he makes a couple of plays," Bennett said.
"I'm more comfortable playing my same position I always play. I don't really want to go to the right end. But if they want me to go there, I'll go there. But I really want to stay at the left side."
Bennett went on to say he's one of the versatile players on the defense and can play right end, and he rushes inside and lines up at linebacker.
Joe can't blame Bennett for wanting to stay in his comfort zone. First, what player wouldn't? And with the pace Bennett's on, he's going to collect a king's ransom as an unrestricted free agent after this season. Legitimate NFL pass rushers make the big bucs — always.