Joe Would Have Lost A Bet
September 9th, 2012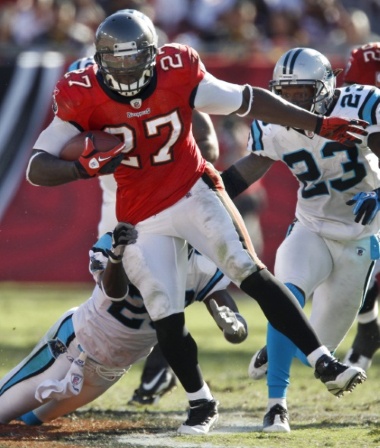 Joe's not much of a gambling guy, but Joe thought he had a sure winner before the game.
Regular readers of Joe's site know said curator was outraged over how former Bucs offensive coordinator Greg Olson couldn't figure out how to use then-starting running back LeGarrette Blount, or for that matter, any of his weapons on the staff.
Shoot, playing the pass-happy Lions to open the season, Blount, coming off a five-yard per carry average, was handed the ball five times in last season's opener — FIVE!!! Joe thought then, and still thinks now, that was criminally negligent.
So Joe "made a bet," that Blount — as a backup no less — would get at least five carries because he now had coaches that had a clue how to use talent.
Alas, Blount had but three carries and one pass reception (GASP!) before he left the game with what appeared to be a cramp and never returned.
(Curiously, Blount was the first Bucs player off the field, and was the first Bucs player to leave the stadium, sprinting out of the locker room, exiting the stadium before the Tampa Bay pen and mic were allowed access.)
Joe would have lost said bet. Happily because it appears the team has a coaching staff that actually prepares for games.
Can you imagine?