About-Face On Leadership Philosophy
September 5th, 2012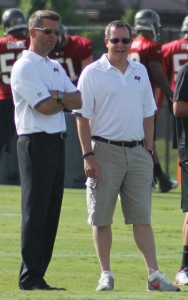 Last season, Bucs fans heard often from rockstar general manager Mark Dominik and Raheem Morris about how the Bucs were confident they didn't need veteran leadership at every position because they had ex-players coaching those positions, guys like Eric Yarber, Keith Millard and Alex Van Pelt.
That never made any sense to Joe, as coaches are not teammates, who can guide, mentor and command attention differently than any coach, no matter his resume.
So it caught Joe's attention when he saw the following Twittering from the official Bucs Twitter feed yesterday.
@TBBuccaneers At Chamber event GM M.Dominik said it was important to add experience & leadership to every meeting room w/likes of Jackson, Clark, Orlovsky
This sure seems like a clear change in leadership and team-building philosophy from Dominik. That stuff just wasn't a priority last year when the Bucs were yungry.
Now the Bucs have thoroughly lived up to the new experience-in-the-room mantra with the acquisition of veteran running back D.J. Ware and his two Super Bowl rings last weekend. Gerald McCoy already has talked about how much Gary Gibson is helping him enhance his game.
Joe likes the change but wishes it would have come last year.