The Slander Of LeGarrette Blount
August 27th, 2012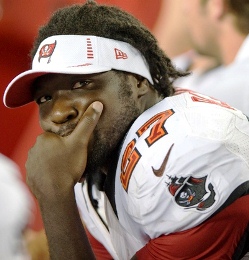 As reports out of One Buc Palace over the past few days indicate, it looks like rookie running back Doug Martin will be the Bucs No. 1 running back come Sept. 9 when the Bucs open the season against the stinking Panthers.
And Joe is OK with that because it appears the running back race was won fair and square. As Joe told Toby David of WHFS-FM after the game Friday night, that just means Martin will be No. 1A and LeGarrette Blount will be No. 1B, as Bucs coach Greg Schiano has stated he will have a two-headed monster of a running back attack.
One person who isn't ready to shovel sand in Blount's face is Alan Dell of the Bradenton Herald. Dell rages in a column about how Blount has been demonized for reasons unknown and simply cannot understand why so many would be so quick to release a guy who two years ago averaged five yards a carry. It was "as if there were a Pulitzer at stake," Dell writes.
Blount dismisses criticism that he can't understand blocking schemes well enough to be on the field on third down and that his hands are made of stone. He says he can be an effective receiver out of the backfield, particularly with his size.

Blount says Martin's arrival has not changed the way he approaches the game, that he was going to improve his ball security regardless.

"I am OK with Doug. He is a good player, and they drafted him for a reason. I know they appreciate what I do. If they didn't I wouldn't be here," he says.
Joe thought it was an absolute joke how people claimed Blount couldn't catch out of the backfield when Joe saw with his own eyes Blount catching passes in practice and last season.
If Blount was so awful, why would Earnest Graham sing his praises so?
Again, Martin ran the ball much better than Blount last week. Sure, Blount may have been dinged up, but that's what depth at that position is for. And that's exactly why Martin was drafted.
Blount's biggest problem last year? Two words: Greg Olson.